We Deliver Grass Fed Beef to Long Island
Real, Local Food
•Real food from our New York farm straight to your door
•Grass fed beef, pastured organic chicken and more
•Building a more resilient, connected local food system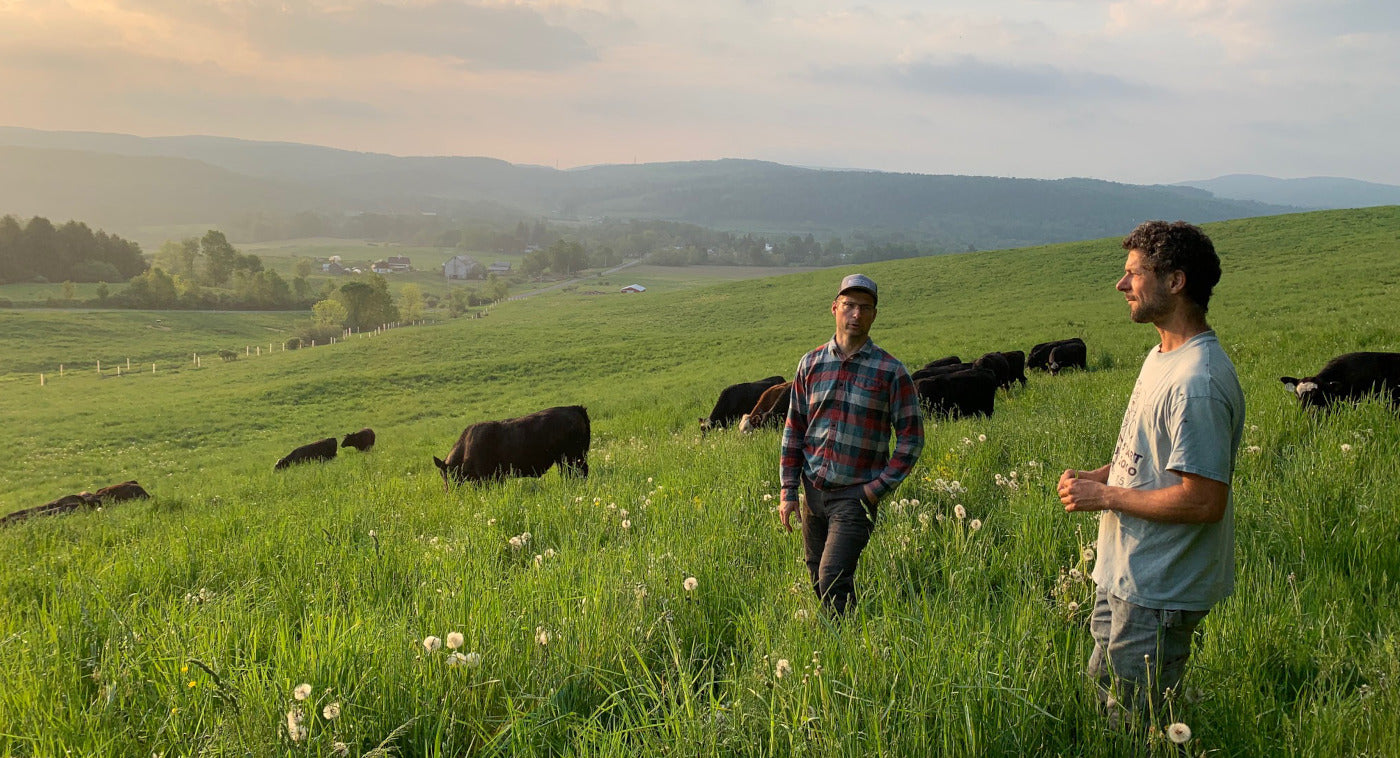 What is Cairncrest Farm?
My names Garth, and my wife Alanna and I lived in Orient, Long Island for several years. A lack of available land prevented us from starting a farm on the Island itself, but we've always loved Long Island, and one of our hopes is to increase the easy access to grass fed beef and other real food. From the first one of our goals was to connect our central New York farm directly with our customers. When you buy grass fed beef, pastured pork, or grass fed lamb from us, you can do so in confidence that we raised it. The organic, truly pastured chicken we sell is raised by good friends on their farm.
If you want to get shopping you can browse everything we sell on the shop page, but we hope you'll take a minute to look around the site. The Grass Fed Field Guide has a lot to say about the details of what separates good grass fed beef from the stuff you can get in the supermarket, while the blog has recipes as well as regular posts about all sorts of small farm issues.
Once upon a time...
Once a month we used to have in person meetups on the north from Roslyn to Greenport, and on the south from Sag Harbor to Malverne. This was a lot of fun, but it also proved to be a huge amount of work - days away from the farm, and lots of effort coordination with customers. Beginning in 2020 we shifted to home delivery using FedEx and UPS. Because of our proximity to Long Island this means next-day service, and insulated liners along with dry ice assure that all the meat we ship arrives frozen and in good shape.
A better way to get grass fed beef to all of Long Island
Grass fed shipped from my farm in central New York on Tuesday arrives on your doorstep on Wednesday. Instead of going to Long Island once a month, we can now ship to it every single week. Figuring out the best way to connect Long Island to the rest of New York state is tricky, but this is the best solution I've found so far. We may start up occasional in person meetups on Long Island in the future, particularly to get people exceptionally large orders, like whole and half cows or half pigs. In the meantime, ordering from the online store is the best way to get real, farm raised grass fed beef.
We really believe in the value of supporting local farms. If you want to explore other options, I've made this handy guide to finding a local source of grass fed beef. It tells you where to look, what to watch out for, and questions you might consider asking.
Thanks for stopping by, and I hope you'll take a minute to look around the site!