Where to Find Grass Fed Beef
Find Nearby Grass Fed Beef: What to Look For, What to Avoid
Find Nearby Grass Fed Beef
If you're eager to get going, you can also scroll down to the list of farm-finding resources, organized nationally and by region. But if you have a minute you first should read about what to watch out for and a few questions you can ask once you do find a farm or other source.
The best place to buy 100% grass fed beef is from a small farm that raises animals the right way. Ideally, everyone would have a wide variety of local, excellent farms from which to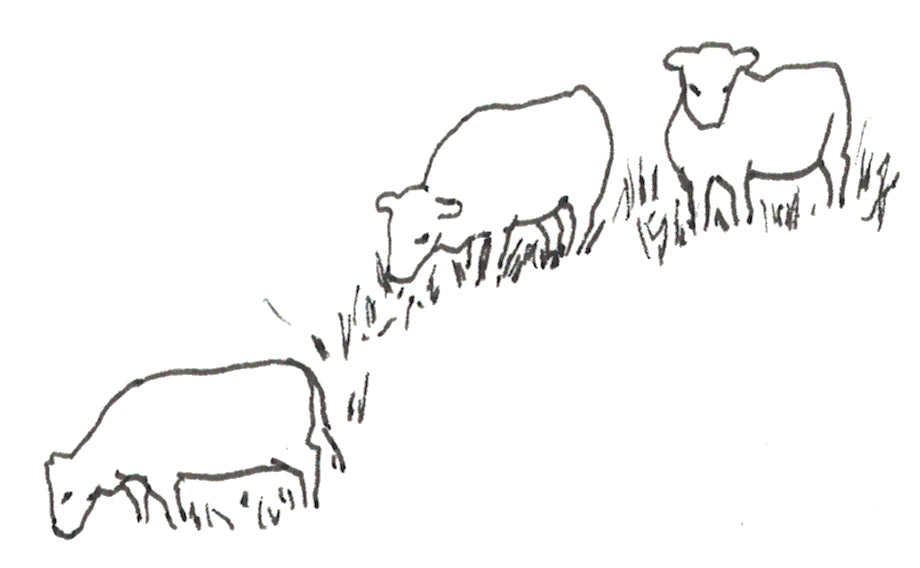 choose. While there are more farms in more places than you might think, they are not always easy to find. The goal of this page is to tell you where to look and how to know if the farm you find is legit.
Don't Buy From ButcherBox or Other Aggregators
ButcherBox puts a lot of marketing dollars into portraying itself as a friend of small farms. This is not the case. It claims to source most of its beef from Australia, but it does not guarantee any particular point of origin. While its pork and chicken is sourced from the U.S. and Canada, all of it comes from factory farms, just like what you'd get in any grocery store. ButcherBox is big business, and it works with industrial farms. It does not work with good, small farms committed to having all animals raised on grass.
Further, ButcherBox tries to get you to commit to a monthly subscription, and sells many items by the serving or portion rather than the pound in an effort to hide what they are actually charging. If you want to be sure you're getting high quality, grass fed beef, try to find a farm you can visit, or at the very least a purveyor who can tell you the exactly where the meat you're buying came from.
When it comes to grocery stores, Whole Foods in particular, it's a bit more complicated. Here's a useful post about buying grass fed beef from Whole Foods.
The bottom line: be suspicious of any company, like ButcherBox, that is a middleman rather than a producer. Most of them are more committed to marketing than to real food and healthy farming. If grocery store beef is labelled grass fed, find out the farm it comes from before buying it. Buying straight from the farmer is the best choice.
Questions to Ask
Once you've found a farm, here are some good questions to ask:
1.) If you're looking for local grass fed beef, an obvious place to start is whether the farm truly only feeds grass. But a great follow up - something the farmer should be pretty jazzed to talk about - is the grazing program. A good, grass centered farm manages pasture by moving animals regularly. During the growing season it's best if they move at least once a day, and the herd shouldn't be in one place for longer than three days in any normal circumstance.
2.) It's good to ask if a farmer raises everything  they sell. There is absolutely nothing wrong with farms not raising everything. All the chicken I sell comes from my friends Dave and Rachel. During the height of the COVID shutdowns I purchased pigs from a friend who had previously relied on selling direct to restaurants. To my mind this is a great way for small farms to work together. But a farmer should happily tell you where everything came from and how it was raised.
3.) Ask if it's possible to visit. Even if you don't necessarily plan on visiting, this is worth finding out. A farmer who sells directly to the public should be happy to have the public visit.

Tools for Finding Grass Fed Beef
Please let me know if you have another good local or national resources! I aim to make this list as comprehensive as possible. Note that I am interested in sites that help people find local farms, not specific farm names. Listing every farm around the country would be unmanageable, and the point of this page is to help people find the tools they need to locate a quality local source of grass fed beef and other local agricultural goods. If you have a suggestion please email me at info@cairncrestfarm.com.
National Grass Fed Beef Finders
•American Grass Fed Member Directory Because American Grass Fed is a certified, all farms listed in its visual member directory should be grass fed, though it's worth asking the usual questions (see above) just to make sure.
• Eatwild. A great place to start is the website Eatwild. Hold on, don't click quite yet! Though Eatwild is the most comprehensive listing service for good, local farms that I know of, it isn't the most user friendly site. It's particularly hard to navigate while using a phone, so check it out on a computer or tablet if possible. When you click onto it, look for the first menu item, titled "Shop for Local Grass Fed Meat, Eggs, and Dairy." That will lead you to a map. From there click on your state, and then on the state map with pins. This requires quite a few steps, I know, but it will lead you to a map with pins for many local farms. Click on any pin to learn about what a particular farm offers.
•Grass Fed Beef Directory This site is dead simple to use, and it what it claims - a listing of grass fed beef farms sorted by state. It's not the most extensive listing, but it's super easy to check.
•SimplyLocal This is a searchable database of farms. It even includes a limited marketplace, but the main feature is that it can direct you to a local farm, based on your address.
•Farmer's Pal Like Eatwild, Farmer's Pal is a searchable directory of farms across the country. It has better search functions and filters, including a filter for grass fed beef, but its listings seem less comprehensive to me, though this likely varies by region.
•Real Food Finder (Still in production - not currently recommended!) This is a new tool, and it is still in development. But like Eatwild and Farmer's Pal, Real Food Finder is a national database of farms and other sources of local food. I like how clean the the site design is, but until the full map is available it is hard to say how useful it will be.
---
California
•California Farm Directory This is a quality interactive map of California farms, farmers' markets, and farm stands. While it does not have a specific filter for grass fed beef, it does let you search by farm product type, so a quick visit to the site of a specific farm should tell you everything you need to know.
•Mendocino County Food Finder Unlike most of the sites on this page, this is not a map, which makes it a bit less intuitive to use. Instead it's a searchable directory of farms. The search bar lets you search for "grass fed beef" or any other term you're interested in.
---
Colorado, Kansas, Nebraska, and Wyoming
•Colorado Beef Local Directory This map of beef farms is reasonably comprehensive. Scroll down for a listing of farms by name, and note that ones that produce grass fed beef are signified by a small plant icon. But be warned: a few of these say both grass fed and grain finished. It's worth clarifying that the beef you're buying is 100% grass finished.
•Where to Buy Beef in Kansas I hesitate to include this list of Kansas beef farms because there is no way to search for producers who specifically raise grass fed beef. But one of the farms listed has "Grass Fed" in the name, and quite a few others give off the right vibe, so it's at least a good starting place.
---
New York, Pennsylvania, New Jersey, and New England
•Lehigh Valley Local Food Map This covers Pennsylvania's Lehigh Valley, from south of Allentown up to the Stroudsburg area. It is a simple map tool with pinned farm locations, as well as small breweries and other local food businesses. Unfortunately, it does not let you filter by grass fed or other qualifiers, but clicking on a pin does bring up a description of each specific farm, including practices and products.
•NOFA New York If you are interested in certified organic and certified grass fed, organic organization NOFA offers a handy farm finder on its website. Make sure you select for grass-fed farms, not just organic!
•NOFA Connecticut This is similar to the above, but it is focused on farms in Connecticut.
•NOFA New Hampshire A New Hampshire organic farm directory. You can filter by the type of farm, including grass fed.
---
Southwest
•Arizona Good Food Finder While this site lists a range of Arizona food businesses, it can be filtered for farm type.
•New Mexico Farmers' Market Directory is a listing of Farmers' Markets in New Mexico. Though it is not searchable by product, it lists dozens of markets with contact info.
•The New Mexico Department of Agriculture Products to Consumers Page This is a simple list of New Mexico beef producers who sell direct to the public. For now it is pretty short, but it will hopefully grow. Use the arrow at the bottom. The grass fed beef producers are currently listed on the page for entries 41-50.
---
Washington and Oregon
•Washington Food and Farm Finder Search by product type and within a given proximity on this map of Washington State Farms. You'll have to look at each specific farm to find out if grass fed beef is available, but the list is pretty robust, so your chances of finding something nearby are good.
•King County Local Food Finder If you're in the Seattle area, the county has an interactive map of Seattle area suppliers of local food. It is mostly a list of Farmers' Markets, but that can be a great place to start looking for grass fed beef. (See below in the Farmers' Market section for some tips on how to do this.)
•Tricounty Farm Fresh A directory of Portland area farms. While there is no specific option for a grass fed search, the listed beef farms are grass fed.
---
Other Places to Look for Grass Fed Beef
• Farmers' Markets. If you're lucky enough to have a farmers' market near you, it is an obvious place to look for grass fed beef, pastured chicken, and other similar food. One issue with farmers' markets is that they are not always run at the most convenient times. But they are an opportunity to check out what a bunch of different farms have to offer, and if you find one you like you can ask if they have a farm store, online ordering, or some other way to buy from them.
• Searching Online. Given this page's focus, there's a good chance you landed on my website by searching, "where to find grass fed beef" or "grass fed beef near me." Shopping for good grass fed beef online can be tricky - I've already pointed out the issues with sites like ButcherBox - but there are also plenty of good farms out there. If you're not sure about a whether a farm is legit, I recommend giving them a call, or better, setting up a time to visit. Most of my customers find me online or via Eatwild, and I like nothing more than answering questions or planning a visit. Any worthwhile farm should do the same!

Conclusion
I'm a farmer, so I obviously think it's worthwhile to seek out grass fed beef. It tastes better, and I believe it's better for you. My sincere hope is that you find this page useful in your search for high quality, real food. While it can be daunting to figure out what farms (and thus what grass fed beef) is legit and what you should be suspicious of, it doesn't have to be complicated. The best way to know what you're getting is to talk to the farmer. Happy eating!
Learn More About Grass Fed Beef and Good Farming